Our Aloe Vera From plant to product
From plant til product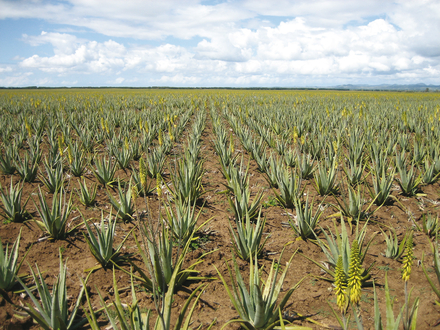 Forever has great experience in handling and processing of fresh Aloe vera products are popular all over the world. Our plantations are in USA, Texas, Mexico and the Dominican Republic. As the world's largest producer of Aloe vera is natural for us to protect the environment. We grow as organic and crop rotation.
A pure product

When the leaves are harvested, they undergo a thorough cleaning process where they are rinsed several times in cold water and even high-pressure cleaning. Any surplus is removed and the leaves are checked to ensure that they are not damaged. We take the Aloe vera gel from the plant's interior, where it is well protected against external influences. In this way recovered gel in its purest form.
Patented process
The clean, freshly pressed gel is collected, and must residues are removed. It then passes through the gel a patented stabilization process that protects against oxidation. Leafy and must residues end up on the compost and is part of the natural cycle.
Thoroughly

tested
Now we have

a good

basic product

,

but we will be

sure that

it

always

has

the same high quality

.

The gel therefore undergoes

laboratory testing and

analysis

before issuing

an ingredient

in

our

products.